The shipping documents required for export and international trade actually differ depending on which country is the destination. The United States and the EU actually have different requirements for what shipping documents are needed to get a shipment cleared by customs so that they can enter a country.
Required Shipping Document for importing to the United States
One benefit of shipping to the United States is that you do not need an Import License, however, it does have some specific requirements:
Commercial Invoice listing H.T.S. Code
Custom Bond
Custom Broker (almost all freight forwarders will have them on staff)
Bill of Lading (ISF or HBL)
Packing list
Shipment advice*
Required Shipping Documents for importing to the EU
For shipment to enter the European Union you need
Packing list
A Commercial Invoice
Bill of lading
Declaration of Conformity
Shipping advice*
*shipping advice is only needed when you are paying using Letters of Credit
The final destination is defined by the buyer and if you are an FBA seller then that typically would be either Amazon's warehouse or a prep and ship center. The incoterms explain who is responsible for doing each action. It's very common for a buyer or seller to hire a freight forwarder to do the shipping for them.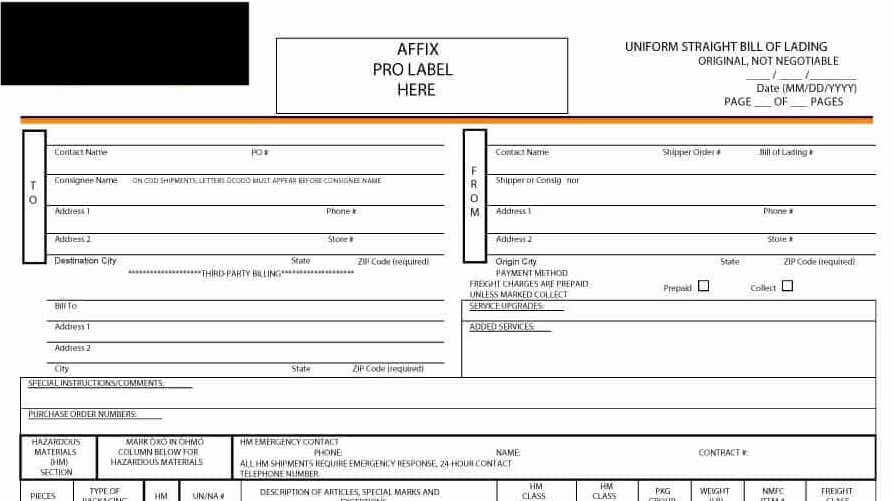 Bill of Lading
What is the Bill of Lading?
The Bill of Lading, often abbreviated as BOL or B/L, is issued by a carrier, or an agent of the carrier, that acknowledge they have received the cargo for shipment. IN a sense this a receipt that the carrier issues to the client to acknowledge the shipment. IT is also one of the three main shipping documents, along with the invoice and packing list that is always required in international shipping

The Bill of lading should have the following information:
The importer or Consignee
The name of the shipping company
The Incoterms
The Products
The Quantity/volume/weight of the items
B/L Number
Who issues the Bill of Lading
The carrier or shipping company, or an agent for them usually a freight forwarder, issues it to the client as soon as the cargo has been loaded onto the vessel and is ready for transport. The shipping documents are sent either by courier or telex (fax) with the other shipping documents before the ship is to be unloaded and cleared by customs.
What does a Bill of Lading do?
A Bill of Lading serves three purposes
A receipt that the goods or containers have been loaded
It documents the terms of the contracts (see our Incoterm guide of more info)
It acts as a title of the goods i.e. it is a contract that shows who is liable for the goods at each step.
Bill of Landing vs Bill of Lading
There is no such thing as a bill of Landing. Bill of landing is a common typo for a Bill of Lading. In fact, it's so common that I've seen professionals with more experience than me make it. Lading is an old English word for the process of loading cargo on a ship.
Packing List
What is a Packing List?
A Packing list is simply a document that shows in detail what is being shipped. This is a fairly simple document and the number of details needs vary widely. We personally encourage you to add as much relevant detail as needed, i.e., instead of saying 1000 shirts, say 1000 men's dress shirts made of cotton.

What does a packing list include?
The packing list only needs a few key details
The products
Quantity/volume/weight
Number of cartons and units per carton
Other names for Packing list
The packing list is often called by other names. Regardless of what it's referred to, it's almost always the same document.
Bill of Parcel
Packaging Slip
Unpacking note
Delivery Docket
Shipping Manifest
Delivery List
Shipping LIst
Customer Receipt
How do you get the packing list
Typically the buyer of the manufacturer will make the packing list and then provide it to the Shipper or Freight forwarder, The freight forwarder will then be responsible for sending the Packing list, along with the Bill of Lading and COmmercial invoice, via mail or fax to the Customs in advance of the shipment arriving

Commercial Invoice
What is the Commercial Invoice?
A Commercial invoice is used for the Customs Declarations and is provided by the supplier or manufacturer from the country that is exporting the item. This invoice will be used by customs to calculate the taxes, tariffs duties and more.

Please note that the Commercial invoice needs to have a signature, and certification that it is a true and accurate document. Attempting to falsify information, such as the amount to avoid paying tariffs and taxes, is a criminal offense and Customs takes this very seriously.

What info Does a Commercial invoice need?
There isn't a standard format for the commercial invoice but the CI does need some information:

Importer or Consignee
Description of the product
HS or H.T.S. Code
Quantity/volume/weight
Country of Manufacture
Value per unit
Total shipment value
Signature(s) or other certification that the document is true and accurate
How to Find the HTS Code
Regarding the H.T.S. Code, we provide a guide here on how to look it up for your product. The tax rate is based on the HTS classification of your product vs the total shipment value.

<<<Link to the guide>>>

How to get a Commercial Invoice?
The Commercial invoice is provided by the manufacturer and sent via the freight forwarder to customs. This document is often the same invoice that they would have sent to you to make the payments.

Certificate of Origin
What is a Certificate of Origin
As the name implies, this is a document of the certificate that states which country the goods were made or originated from. This document is crucial to customs as this will be used to determine the tariff and tax rates. The USA, EU, and Australia have free trade agreements with many countries, and as a result, those can enter without any payments. On the other hand, this also means that other countries will get hit with a higher bill, For instance, most goods imported from China to the USA are now subject to tariffs.
Who Issues the Certificate of Origin?
In most cases this can be issued by the supplier or manufacturers, however, it needs to be issued or certified by the exporting countries Chamber of Commerce or other Governing bodies. This document also needs to be stamped or signed by authorities in the country of origin.

Customs Bond
If you are importing into the United States then you need to obtain a Customs bond. This only applies to the US, so you can skip this section if you are shipping elsewhere.
What is a Customs Bond?
A customs bond is basically a contract or legal agreement that ensures that the Importer pays all required fees, duties and taxes to customs. This is often called an Import bond. Customs and border protection (CBP) make this standard for all shipments of more than $2,500 or are restricted by other agencies such as the FDA.
Most customs brokers as well as online booking platforms such as FreightOS or Flexport, allow you to purchase them directly with them.
There are two types of Custom bond, single entry or a continuous bond. A single entry bond is good for those who only are doing one shipment or isn't sure about the future. The cost is 5.5% per $1000 and a minimum cost of $55. A continuous bond is useful for anyone who does regular shipment and is valid for an unlimited amount of entries. The rate starts at $475 a year.
Declaration of Conformity
What is the declaration of Conformity?
The Declaration of Conformity is a document for shipping into the European Union. This isn't needed for all items that are shipped and only applies to hazardous and restricted products that need CE certification and labeling.

What Products does the EU require for the Documents of Conformity
Many items are subject to the Do, so this is only a slit of the most common items.
Toys
Medical Devices
Electronics
Safety equipment
Radio equipment
Items that use Gas/fuel to operate
Hazardous substances
And more!
What is needed in the Declaration of Conformity
Name of the manufacturer
All contact information of the manufacturer
A liability statement that the Manufacturer is responsible
Product barcode or serial number
Details of the certification body that did the conformity assessment of the manufacturer
A reference to the legislation that the product falls under
HTS code
Name and signature or stamp of the manufacturer
Date
INSTRKTIV has a great guide that covers Documents of Conformity in much more detail
Shipping Advice
What is a Shipping advice?
Shipping advice is a letter created by the shipping company or exporter to be sent to a bank to release payment when you are paying using letters of Credit. This shipping document is also used to arrange insurance as well as to expedite the customs process.
Import License
Most countries, including the USA, Canada, EU, Australia, and several others, do NOT require you to have an import license for most goods but there are exceptions. The most common exception is food items, health supplements, and hazardous goods

IF you are Importing any of the following below items, please be sure that you understand the rules and licensing.

Battery Powered items
Electronics
Food and other Agricultural items
Health supplements, pharmaceuticals, and other drugs
Medical Devices
Live animals and plants
Tabaco, CBD, Alcohol
Hazardous or flammable items
And more!
This is not a complete list, but if you think you need a license then double-check and find out. It is up to you to determine if you need a license or clearance before your products can enter the destination country. In addition, most of the above categories may need additional product compliance documents before they can be imported.
Product compliance
Product Compliance is very tricky, but fortunately, it only applies to some and not all shipments. For the most part, you need to only obtain certain shipping documents if your product is in a restricted category.

The Type of product compliance shipping documents you may need include
Lab Test Reports
Product Certificates
UL Certification (for electronics)
Technical Documentation
Factory Certification ( most commonly ISO, which is mandatory for certain products)
Final Thoughts
When shipping your products you don't need to be that worried about the shipping documents if you are using an experienced Freight forwarder, and your supplier has previous experience exporting to the same country. When first looking for a factory, one of the first things that we ask a potential supplier is to have you shipped to the intended destination country before. This is mainly so that we can make sure that they meet the requirements to export to the country and are familiar with the documentation needed to ship.